Guitar Spotlight: Eos 102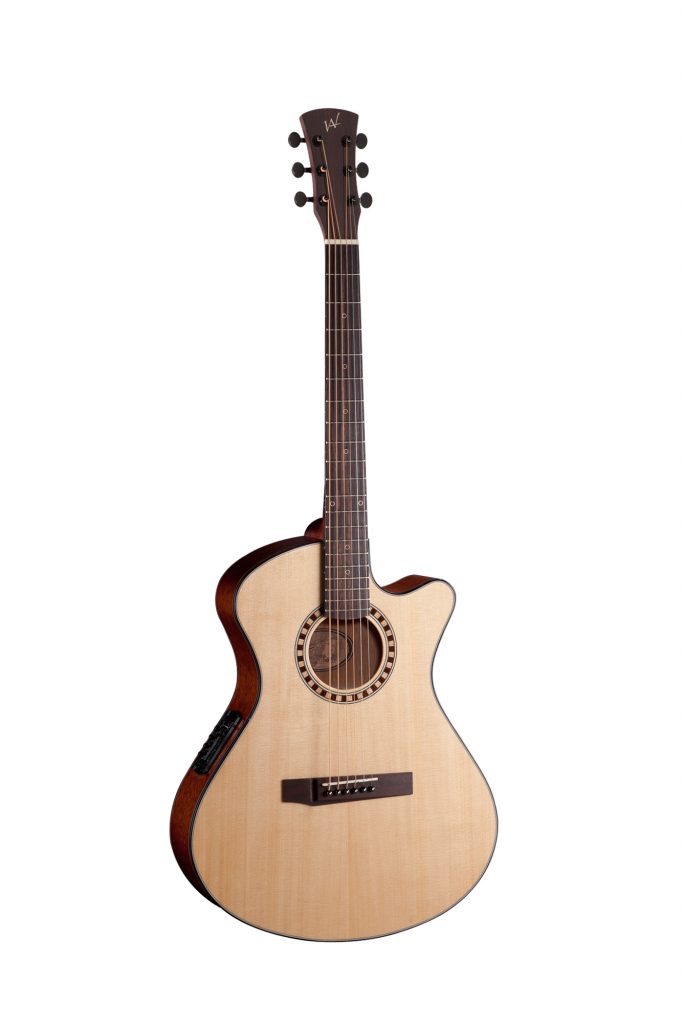 By: Josh Lucas
In many ways the Eos 102 is an unsung hero in the Andrew White Guitars lineup.
It's one of the least expensive models, and even slightly less expensive than our 112 flagship line.
While it may not be the first to jump out to the guitar connoisseur, the fact that it will get you through night after night of gigs or jam sessions in less-than-ideal conditions means that it deserves your consideration!
As many of you who read these blogs already know I've previously discussed my surprise as to the tone quality in our 100 series guitars.
While there's no denying that there's an otherwise unachievable depth of sound, and a feeling that your dynamics can go as hard as you can push them when you're using an all solid wood guitar, the downside is that those guitars are much more temperamental when it comes to changes in climate and humidity.
What I've found is that for those situations, I absolutely do NOT want my solid wood guitars going out with me–to the woods, around the campfire, or even really to most of my gigs.
But I also hate terrible guitars.
Do you see my dilemma here?
So I need a good quality guitar that I can take with me everywhere, not just a show piece or a high-quality studio guitar–not that there's anything wrong with having either or both of those things! But do you want to take your $6,900+ Signature series with you to the (literal or figurative) local watering hole?
Enter the Eos 102. When someone tells us they're a fingerpicker, we almost always point them to the Eos 102. Extremely well balanced sound, with an emphasis on clarity. The added clarity of the tight-waisted Eos helps your polyphonic lines really sing, and the larger lower bout means you can get a slightly more pronounced bass response.
It's also important to note that what separates the Eos 102 from the rest of the 100 series is the "Zero" in the model number, which stands for Jatoba! If you don't already know what a great tonewood you're getting when you buy one of our Jatoba guitars, check out this link to see what it's all about. It's got the warmth and midrange character of mahogany, but is a bit harder and has a more consistent tone from piece to piece. The fact that it's harder also gives the tone a little bit more clarity and sustain.
I would encourage you to grab an Eos 102 while the prices are still so low, and maximize the value that you'll get out of this instrument that's meant to be used day in and day out.