"Didn't expect this much guitar for the money!"
That's one of the most common reviews that we get on our guitars. And the funniest part? We get that comment from our most modestly priced guitars, all the way up to our $3600 Double Tops.
Now at first, that may seem ridiculous, and when I looked at the reviews myself that was the first thing that I noticed. I think that the bottom line is that our guitars sound great, and are priced to be great guitars for working musicians. Andrew has used his experience building custom guitars to give us enough options to satisfy nearly every guitarist's needs. Check out these reviews below, and you'll see what I mean.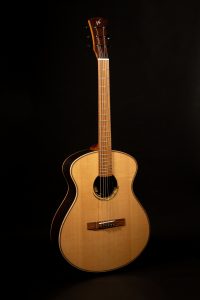 "You can do Bluegrass strumming and go right to subtle fingerpicking without losing clarity or richness. Exceptional value in this guitar."
Anon, Freja Double Top
____________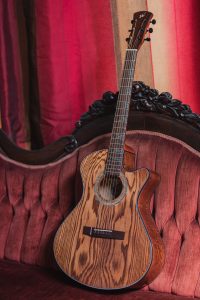 The build quality, joints, binding, inlays and finish is very nicely done. I love the quilted Ash. This is a GREAT guitar for the money.
Tony, Reno, NV – Eos 2A2 NAT
____________
Exceptional level of quality, especially in view of the very accessible price point! The EOS 2A2 has a very pretty and unique design–just gorgeous! Fit and finish are perfect, and the tone surpasses my other guitars in the price range. The case is also a pleasant surprise; very good design! All in all, I will mark this buy as a victory!
Steve Kuykendall, Jamestown, ND – Eos 2A2
____________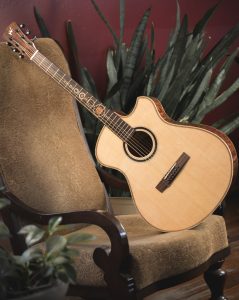 I don't know what kind of magic faerie dust you have– but keep it up. This guitar is unimaginably outstanding and I just felt the compelling need to thank you for producing such a magnificent instrument, especially at such an afforable price. So profoundly playable with low action, yet a powerful midrange and bass response. Just incredible.
Pete – Freja 142
____________
Working With The Owner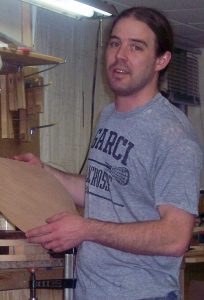 One thing we pride ourselves on most is being able to find the right guitars for our customers. It's a huge benefit that we have, being a small business. Not only will our staff help walk you through the different models that we offer, but many times you'll even end up corresponding with Andrew himself–something that rarely happens with larger companies.
We don't just have the information for each model available to us, but we've also got years of experience with each and every model. That makes it easy for us to help guide you to the guitar that will resonate with you. Check out what some of the reviews below have to say.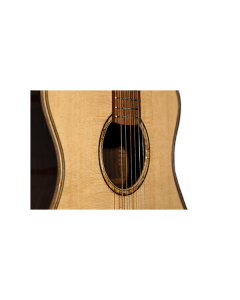 _____________
How come a small maker in West Virginia managed to figure out how to get this thing made in a purpose-built guitar factory in Korea, with this quality, design and price point…..I play other guitars for different reasons, but THIS is the one that I play for my soul.
Anon, Freja Double Top
_____________
Message: Andrew, WOW! I am blown away with my recent purchase. You were right in describing the beauty of that instrument. The sound is awesome, as well. I wanted a smaller guitar better fitted for comfort. This one is perfect. It far exceeded my expectations for a production guitar. Looks, sound, comfort; this has it all! Thanks again for your help and a great buying experience!
–Wayne Queen
_____________
I love the personal touch of Andrew White's customer service. I have had many questions regarding the building of his guitars and every question has been answered within a day! Let's see some of the big houses do that!
Anon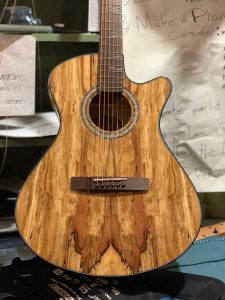 _____________
Multiple Guitars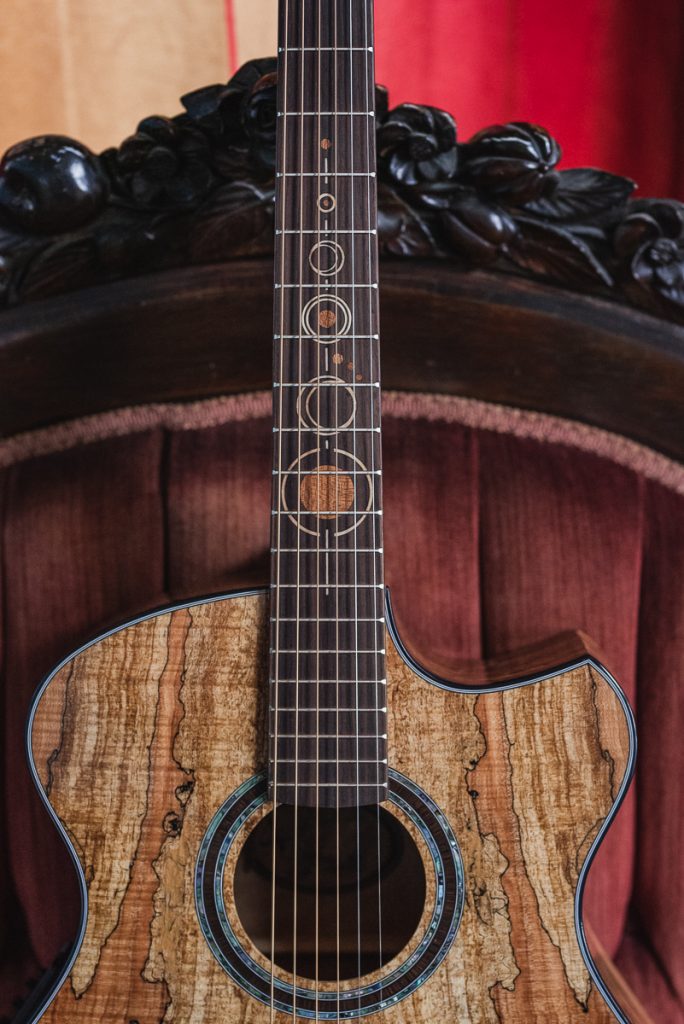 Why do we have so many repeat customers? Well, from the looks of it, it's because we've got unique, eye-catching guitars that sound as good as they look. In fact, some of our customers love our workhorse models even more than the more expensive offerings they've bought from other brands.
Sound crazy? We thought so, too. But when you play an instrument that's equally toneful as it is beautiful and ergonomic, you can get used to all the benefits that come along with it.
Are our guitars addictive?
Maybe.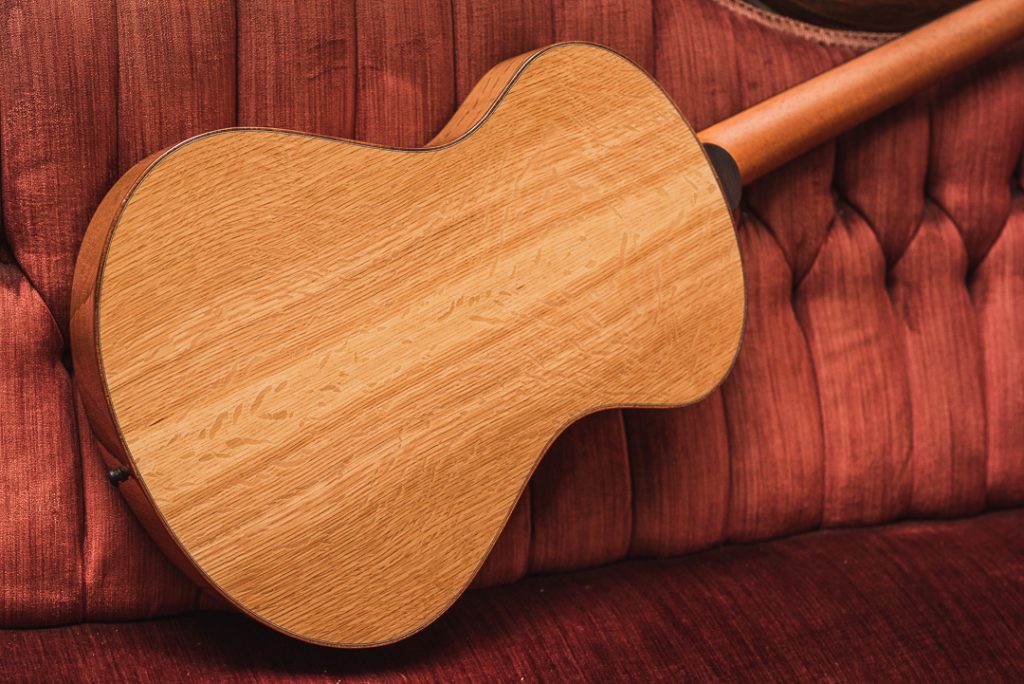 ____________
Having 4 production models. I can confidently say, you will not be disappointed! Every gig I play, I at least get one compliment on my Andrew White guitars!
–Colby Sard, Cambridge MD
____________
My Freja 142 Nat is the best guitar I have ever played, I am saving to get another guitar, an Eos for my son , superb quality and sound, I will put these guitars up against Martin and Taylor anytime.
Mark Blackburn
____________
Beautiful guitar, great sound and excellent craftsmanship. I bought the FREJA 110 as a gift for my son's 40th birthday and he was so impressed with it, I bought the FREJA 132 for myself. The play-ability is phenomenal and the sound is great. I am a Andrew White customer for life!
Kirk Orrick, Rockledge, FL — Two Freja 110's and a Freja 132.
____________
My Freja 100J guitar is absolutely gorgeous! Both looks and sounds amazing with a full range of tones. I am incredibly happy with my purchase and am fired up to play it every day. Looking forward to possibly choosing another Andrew White guitar in the future.
Kim M. Gruenwald, Freja 100J NS, Carbonado, WA.
_____________
I love Andrew Whites guitars. At present, I have two, Freja and a Cybele. I think Andrews work just needs to become better known, and once they are, a larger, more vocal fan club will emerge. Workmanship is top drawer.
_____________
I own a Freja 100 BK as well as a Decker's Creek Dreadnaught D110. Both are built with quality in mind and both are a joy to play. My 1973 Gianinni, my 1983 Ibanez Artwood, my 1990 Takamine Peter Townsend model, my three year old Fender and my Four year old Martin are all great guitars. But none measure up to the tone, the sustain and voice of my Andrew White creations.
_____________
I own a Martin D-41, Larivee D-50, Taylor 710 Brazilian, a Blueridge BR-180, and an Andrew White Deckers Creek D2050. If I could only keep one of them, it would be the Andrew White D2050. Then there is that Andrew White Freja 100J – OK – two guitars.
_____________
Buying Online
Are you a little nervous to buy a guitar online without even touching it first?
Well, you're not alone. In fact, some of our most satisfied customers felt the same way. Check out what they had to say.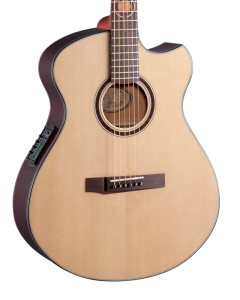 "So, here's the thing. Buying a guitar online without playing it goes against the common wisdom, right? So I read a lot of reviews, and after enough homework I became satisfied that it was worth's shot. Boy am I glad I did. This guitar rings like a bell, with clear, brilliant definition, whether played softly or full tilt."
Scott One, Robbinsdale, MN – Freja 112 NAT
___________
It can be scary to take that first step, but with the help of our talented and knowledgeable staff, combined with our hassle-free exchange policy, it's practically a guarantee that we'll find a guitar that you will love for years to come.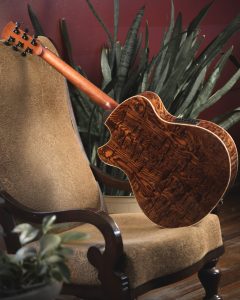 "Having never even heard of Andrew's guitars prior to my purchase, I thought I was crazy buying a guitar I had never played. However, the tone and feel of the instrument are incredible and of course it is beautiful. Better projection than my Martin and already it is warming up to being played. Couldn't be happier!"
William Eiseman, Olympia, WA–Freja 142 NAT
___________
Can't decide which model to start with? Maybe these reviews will help.
Cybele Reviews
(Cybele 2A2) It arrived Monday and I love it. It is a marvelous work of art, and delivers such crisp, clean, rich tones that bring a new pleasure to playing.
Jim Best, La Jolla, CA
(Cybele 2S2) I truly love the guitars I have purchased over the last several months. I find myself picking up one of them every time I sit down to play…. and I have 25 guitars hanging in the same room! I hope to be able to purchase more in the future. I love the different wood combinations you use. Mine all sound wonderful. So thank you; you are a great Luthier.
Stephanie Matthews, Dunbar, WV
The Cybele 1010 is my favorite guitar to play. I have Taylor's, les Paul's, D'angelicos, seagull and a few more. The sustain on this guitar is phenomenal! I love it!
Anon
The Cybele 110 NAT is the finest acoustic guitar I have ever played. The tone is perfect even when playing hard. The action is smooth and I can play anything I want from full barre chords to country blues, to straight country. I love this guitar, and I've never been able to say that about any other acoustic guitar I've ever owned.
Anon
(Cybele 112 NAT) I have always been a Taylor person. I did a side by side comparison of my Cybele and a late model, special edition Taylor 314ce today. The Cybele was better in every way. Guess I am in the Andrew White camp now. Great work!!!
Anon
___________
Eos Reviews
(Eos 2S0 NAT in Spalted Maple) A stunningly beautiful guitar! The sound and playability are great. The attention to detail on the construction and finish is awesome. I am very happy with the purchase!
Bob Shampo, Cudahy, WI
(Eos 100 NAT) Very easy to hold and play this guitar. I can't quite find the words, but the feel, especially when strumming, is just right. The tone is just fantastic. I'm very glad I bought this!
(Eos 112 NAT) Perfection is all I can say. It's just perfect. It fits me like a glove, it's gorgeous, and the tone is angelic.
Both from Stephen Agosto, Webster, NY
(Eos 102J NAT) My rule is one guitar in and one guitar out and this guitar is going to bump either a Martin 000-15 or a Taylor 314ce from my collection. It is that good!
Steve Ahlquist, Natick, MA
(Eos 2A2) I have been playing with this model for 3 months now. I use it in our live shows more than any other guitar I own. Never have I received complements as I do when I play this guitar, and they are usually from the sound guy. I would compare the sound to, as good or better, than any Taylor or Martin out there. Thank you Andrew for such a marvelous guitar !!!!
Anon
Freja Reviews
(Freja 2A0) Well Andrew, you're not getting this one back. Love it. I've tried all the big names. They don't hold a candle to what you build. Thank you so much .
Keith Rines, New Hampshire
(Freja 2S2) What an absolutely phenomenal guitar!! The tones sparkle as they dance off of the strings and the woods remind me of the most fragrant of forests! The neck crop circles take my fingers on their mystical journey across the perfectly polished frets and I end up in heaven! Absolutely stunning guitar! So glad I found AW guitars!!
Jeff Pecoraro, Poplar Grove, IL
(Freja 112 BV) This is the best sounding guitar I've owned – and that includes my 69 Gibson J-50 and my Martin HD-28. This thing just sings!
Paul Allee, Houston, TX
(Freja 112) Since I got my Freja last month, I feel like I'm falling in love with playing guitar all over again. They say you should buy a guitar that makes you want to play it. With this guitar though, that is an understatement. I wish I had found this guitar sooner, but ultimately I'm just glad I did. I love my Andrew White guitar!
Paul J. White, Hercules, CA
(Freja 2A2) I have played guitar for over 20yrs and this by far is the best sounding acoustic guitar I have played or owned. It has a full and rich sound with cello like bass, beautiful mids that dont get lost in the mix and the high tones that gracefully finish. This guitar truly has its own voice and own look. People are still talking about how beautiful it looks…and the sound guys love it.
William Gould, Littleton, CO
(Freja 112 NAT) Quality of craftsmanship is very good. Guitar looks great and intonation is spot on.
Tone is very good with nice harmonics and sustain. Easy to play. Expect it to sound better with age as it opens up a bit more. Excellent for a "production" guitar – I also have Taylor 300 series and the AW is right there and maybe slightly better.
–Ralph Dantonio, Mount Joy, PA
Dreadnought Reviews
(Dreadnought 2050) …..the more it opens up the better it sounds! Measures up to any Martin you put it up against, only better. This is the guitar I have been looking for! The others are going up for sale 👍 If you've been considering getting one of Andrews guitars, go for it! You will not be disappointed….
Cathy Philipp, Chino Valley, AZ
(D110) This is a truly engaging solid rosewood dreadnought with sweet and subtle sounds that can turn into solid bluegrass in a single swipe of the strings. Andrew White hits it out of the park with this one.
William Shaw, Pensacola, FL
(D150) Pleasantly surprised! I have never played an Andrew White guitar, but when I received my Deckers Creek Dreadnought not only was the guitar stunning…but it played like an old friend! Excellent tone, easy to play, comfortable all the way up the fretboard. I wanted a great sounding acoustic with no frills, and I got it and then some! Thanks Andrew!
Ron Morrison, Ballwin, MO
___________
Bottom line, if you keep coming back to this website, if you love the way the guitars look and you love the demos, then take the chance. From the variety of tonewoods offered, to all four unique body styles–any tone you could ever want is possible with these guitars.