Guitar Spotlight: The D 110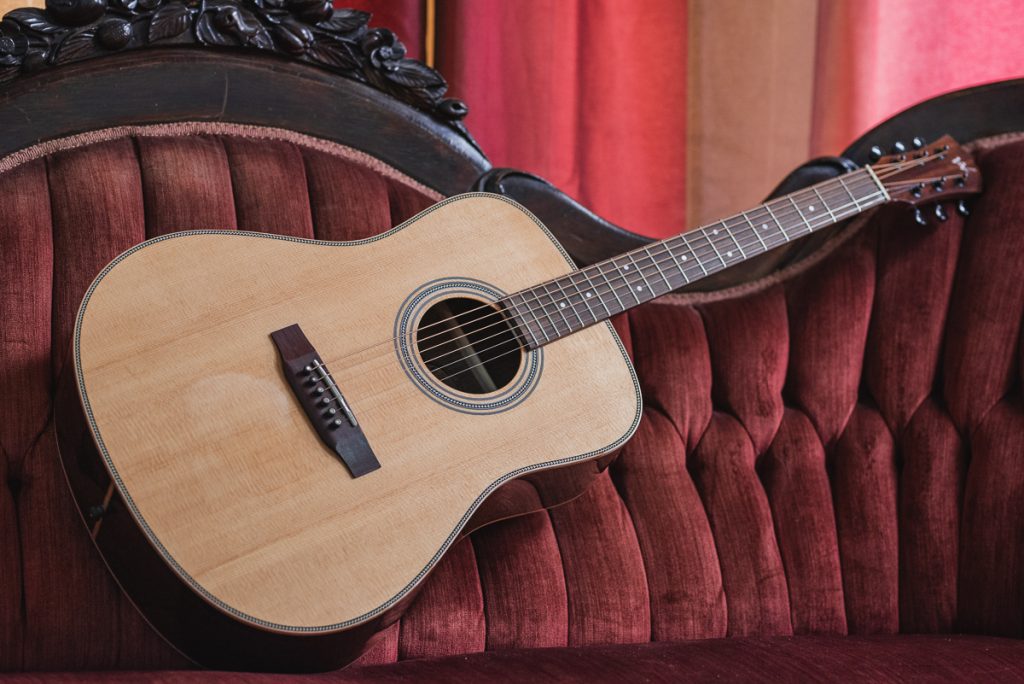 By: Josh Lucas
I'm going to start this off by saying the opposite of what I think Andrew would want me to say.
I did not want to like this guitar.
I've already got an American-made Dread, which costs about 3x as much as this guitar, has all solid wood, all the great things we want in a guitar to justify a purchase. So what could this guitar possibly have to offer?
First off, let me tell you about the surprise that hit me when I first grabbed the guitar. I mean, our 100 series typically has features that you wouldn't see on a guitar at that price, but I didn't expect to see the flamed maple binding on the body. Topped off with the classic herringbone rosette, It's really just a touch of class that echoes the subtle beauty of its big brother in Andrew's Master Craft series.
Looks aside, the next thing that I noticed–even before the sound–was the feel. It's a magic moment when you grab a guitar off the rack, and the relief and action is just right. Well, it feels like magic because it seldom happens.
So, I'd be lying if I said that the touch of this guitar didn't influence my perception of the sound. It felt so natural under my fingers that I felt like I could do no wrong. More than that, for the first time in months I felt like I couldn't put a guitar down.
Yes, that's me, the guitar teacher telling on myself. I haven't been feeling it lately! It happens to all of us. I play every day, but I don't play right now. But that's a subject for another blog!
But today when I grabbed that dread, a combination of the familiarity of the body style, the clarity that cuts through in all of Andrew's guitars, and the slack feel of these strings in my hands gave me a reason to give it another shot.
Of course, all that's subjective, right? What actually makes this guitar great?
Andrew's bracing system, the stability and familiar tone of a Spanish Cedar neck, a solid Spruce top, Andrew's very comfortable and unique C-shaped neck with a smooth satin finish and oiled rosewood fretboard.
Not enough features? Gee, you might want to look into a custom guitar–
Just kidding. Sort of.
From the finish, to the playability, to all the features, I was blown away. Without looking at the price tag, or knowing any of the features–if I had played this guitar blindfolded, I would've gone home with it.
On top of all that, for an extra $100 you can get an Artec SHP-5 Preamp/Pickup system installed. That way you can crank this bad boy through a full stack of 1×8 acoustic amps and really blow the doors off the coffee shop.
If you're looking for a great guitar for gigs, and even recording–one that feels and sounds about three times what you'll pay for it–go for the D 110 while this sale is going. If you love a good Dread, there is zero chance that you'll be disappointed.