Guitar Spotlight: Master Craft Oak Cybele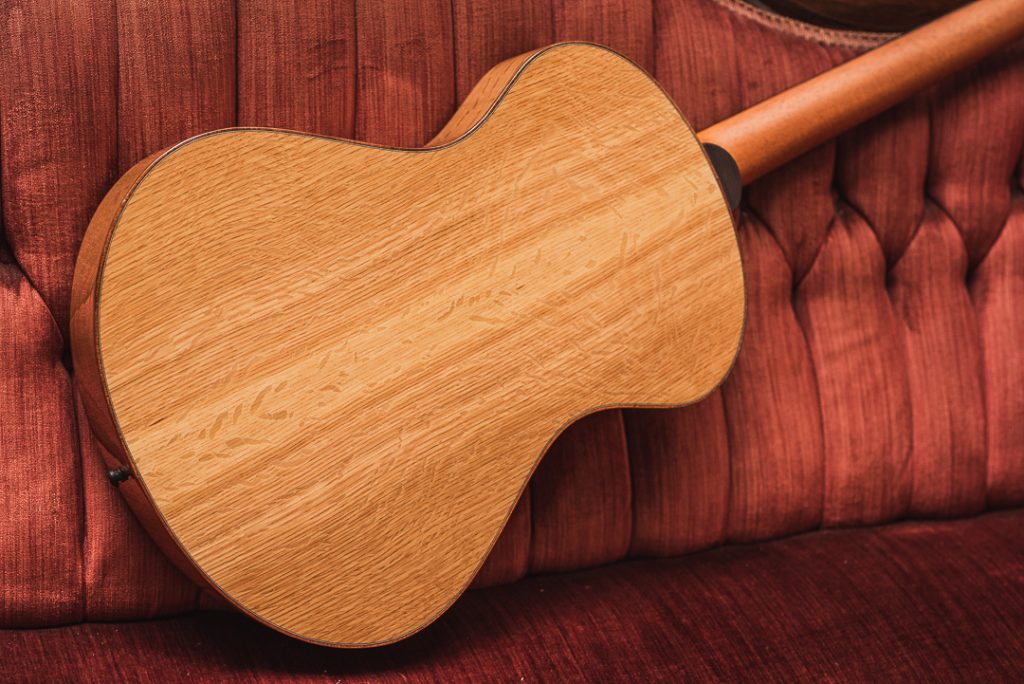 By: Josh Lucas
You know, oak is far from being the most glamorous wood. In fact, when we first got the ones in, I thought to myself, "Oak?" 
Even Andrew said, "People see this wood on their deck, or they use it for trim–I'm worried that they won't take a chance on it.
And we mean no offense to oak, but this guitar has to compete against rosewood, figured Sapele, and even Purpleheart in its class/price range. So what makes this guitar special compared to the others? And why get this Cybele when you could get one with rosewood back and sides for less money?
Let's take a deep dive into this blonde beauty, because if you've been looking at this guitar, but are equal parts connoisseur and tone chaser, I'm sure you're wondering what it sounds like.
I did a couple of quick playthroughs with a solid rosewood Cybele 1010W against the oak, and tonally the difference was night and day. And not to get too esoteric on you, but we all know that though night and day are different they are also complementary.
Rosewood is probably the acoustic tone with which I am most familiar, so you get all the richness and amplified bass and treble you'd expect. Very deep, well balanced, and still with great projection coming from the spruce top.
But the oak was a different, and at times altogether meaner instrument. That's not to say it doesn't have a soft side, but we'll get to that in a moment. 
I mean to tell you, when you really lay into the instrument it can sound as mean as a Les Paul cranked up to 11. Okay, maybe not that mean–but for an acoustic instrument of its size, the projection was absolutely unparalleled. It has a midrange growl that is akin to Sapele, but slightly more crisp and direct compared to the more lush midrange of Sapele–this guitar can get totally brash. You know I had to test it out with some Zeppelin, and let's just say that the guitar passed the test with flying colors.
In fact, the projection is possibly my favorite thing about this guitar. Each and every note that I played–even hammer-ons and pull-offs, which can be a bear on acoustic–were crisp and clear. If you play electric guitar, the difference in playing the two guitars was like the difference of having a compressor off and then turning it on. Suddenly the notes had more balance and clarity, and easily popped out more loudly. I'm not exaggerating when I say the Oak Cybele is a lead guitar player's dream. I certainly did not expect to be as impressed by its tone and responsiveness as I am. 
Then I tested the guitar out to see how it played at low volumes, and it was impressive the way that each note was balanced and clear, just at a lower volume–again, if you play electric, it was like turning the master volume down on a really good amp–same tone, slightly quieter. 
That might not seem important to you, but it should. On some guitars, as my volume gets lower, string to string balance is something I have to focus on more. The Oak Cybele, however, is very user-friendly in that sense, and because the attack is so immediate it completely eliminates that technical issue for me.
The Master Craft Cybele is truly a wonderful, useful, and unique instrument, and its tonal versatility can translate to any style. I tried my usual (albeit fairly lean) classical repertoire, ripped through Houses of the Holy, and even tried some fingerstyle blues–let's be honest, the aesthetic of this guitar is screaming, "Play the blues on me!"–and it could handle anything I could throw at it. After reviewing some of the other guitars in the Master Craft series, including the mighty Tunnel 13 and 14 redwood-topped Frejas, I really didn't think that I would rank this guitar as highly as I do. But at the price point, and with the addition of a bone nut and saddle and koa binding to make it just a little sweeter, I really can't deny this guitar its due. It's the loudest, easiest playing Cybele we offer, period.