Tonewood Spotlight: Waterfall Sapele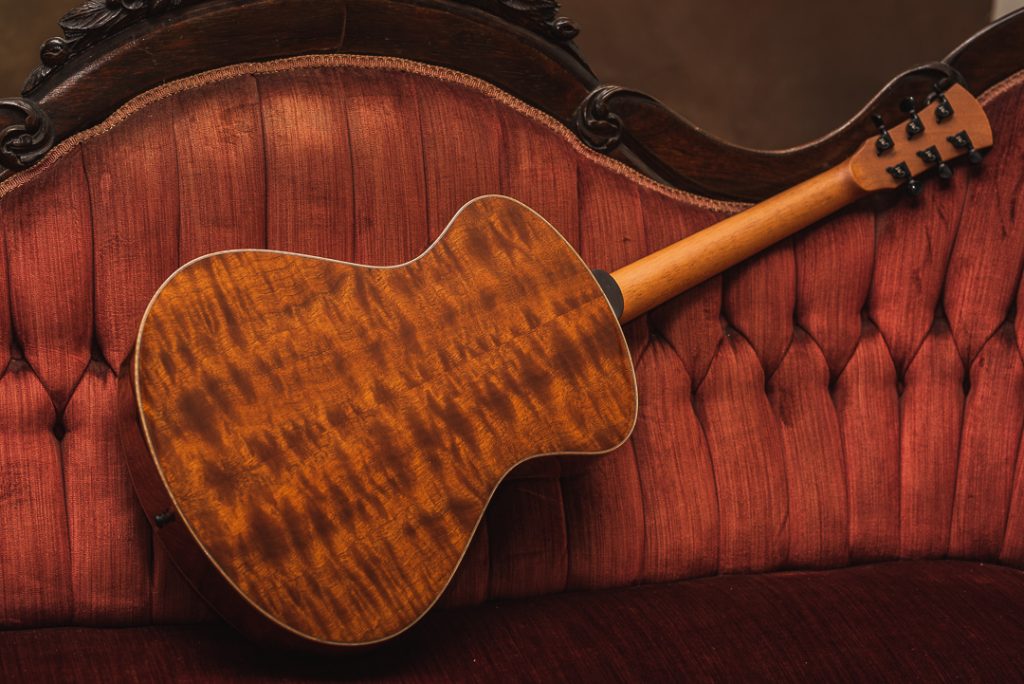 By Josh Lucas
Ladies and gentlemen, I've fallen in love.
This wood is totally stunning, and it has some tough competition when it comes to the other exotic tonewoods in our Mastercraft guitars. While they all have their strengths in terms of EQ and projection, we're all looking for that total package, right?
When I first strummed one of the new EOS models with a sitka spruce top and waterfall sapele back and sides I expected an instrument with clarity, and a strong midrange. I got what I expected, but this time I got even more.
So, most of us know that Sapele is being more widely used as a substitute for Genuine Mahogany (known by many names; Honduran Mahogany, etc.) but, like most tonewoods being used in this way, sometimes we generally (and mistakenly) think of that as a cop-out. Don't get me wrong, I have two guitars made from genuine mahogany, and I love them—-it's a strikingly beautiful wood, especially with a clear finish. Sapele has its own beauty. Where my most beautiful piece of genuine mahogany is henna color, sapele has only a slight reddish hue, and is mostly brown.
Okay, I know you're all mainly concerned with the sound. So what's up with sapele? Particularly this "waterfall sapele?" It's almost as if you took the things you loved about genuine mahogany, and put them all in HD. It's got the strong midrange that growls like a distorted guitar, but it's got more cut and clarity in the top end, and the way the low mids interact with the bass is nothing short of the rumbling of an old hot rod. But I digress.
Compared to Andrew's other sapele-clad guitars, I noticed that the way the waterfall sapele interacts with the sitka spruce in this particular EOS model gives the player and listener the full sonic spectrum of an acoustic guitar; growl, clarity, warmth, bass. In short, it sounds like an acoustic guitar is supposed to sound, almost to the point of exaggeration; it's almost like a caricature of a guitar—-the sound of a guitar we remember in our mind's ear. The best part is that it not only sounds that good, but it looks that good without being too flashy.
Well, I warned you that I'd fallen in love. And I know I'm gushing over this wood, but listen—-if you don't believe me, you'll just have to find out for yourself, man!