Hey folks! Josh here. If you've kept up over the past couple of years, I've done several "Tonewood Spotlights" on just about every wood that we have in the shop. I thought now would be a good time to put some of our most commonly used tonewoods in one spot to make it even easier for you to decide which guitar is right for you.
I'll preface this by saying, of course, everyone's ear is different–and what I'm saying about these tonewoods may not align with what you've heard about them, or even your personal experience with them.
There are a few reasons for that. I'm writing not only about the tonewoods, but how the tonewoods interact with Andrew's guitars in order to produce the sound that you hear. What I'm describing is that sound, which is the result of Andrew's design and bracing matched with the tonewoods he's chosen.
Backs/Sides
Rosewood: One of the classic sounds that most of us are familiar with. Rosewood has a smooth, scooped midrange, and boosts the lows and the highs. With Andrew's guitars, rosewood showcases both the rumble we love to feel against our bodies, with added clarity on the top end due to his guitars' tight waists, and his unique bracing. Even Andrew's solid-rosewood dreads have a little extra clarity. Equally at home with a pick, or with fingerstyle playing.
Blackwood: Dry and woody, this tonewood has great upper-midrange bite, and will assure that your leads are heard loud and clear. Compared to other woods we offer, it's got similar qualities to Sapele, but with more of a high-midrange focus.
Sapele: The midrange is highlighted, giving your guitar body and clarity with complex overtones and sustain for days. A great choice for both rhythm and lead guitar, especially if you use a pick.
Jatoba: Another midrange focused tonewood, this one is a little more tame than Sapele or Blackwood. It's warm, with less cut in the top end, and fewer overtones. It's a versatile tonewood, with a balanced EQ curve that's especially great for recording.
Maple: On Andrew's guitars, maple is much warmer than is usually advertised. The top-end sparkle is still there, but there's a level of depth and that you wouldn't necessarily expect from Maple.
We use a few different types of maple, and the tone varies slightly between solid and laminate bodies as well. But in general, with Andrew's guitars, they're all going to give you a scooped tone similar to Rosewood, but a little warmer and rounder. And when it's all-solid-maple, you can expect a tone that's very warm coupled with a top that will make the notes "pop" and "sparkle."
Quilted Ash: Another surprisingly warm tonewood, this one offers a slightly grittier and woodier tone. Strong mids, and a versatile EQ curve make this a great choice for a workhorse guitar that will excel both as a lead and a rhythm instrument.
Dao: With stronger mids, and an even woodier tone, this tonewood sounds like a midpoint between our Quilted Ash guitars, and Blackwood or Sapele. Not quite as much "growl" as Sapele, and not quite as much "bite" as Blackwood, it's the guitar you'll want if you need strong mids, but don't want any specific frequency to jump out.
Tops
Sitka Spruce: Sitka has a lot of "pop" and volume when you push it. Great for picking, but also for fingerstyle when you want to highlight differences in dynamics, or if you have especially good right-hand control.
Western Red Cedar: A very balanced tonewood, this cedar doesn't have as much dynamic fluctuation, and as such is great for fingerstyle playing such as tremolo, and arpeggios. If you like a more mellow, balanced tone from your top, this is the one for you.
Our exotic wood lineup features spalted maple, quilted ash, and dao–and as you can guess, the tonal qualities of those woods will carry over to the top.
Double-Top: This one takes some breaking-in to get the most out of it, but once you do the sound is second-to-none. Very unique design–two thin layers of spruce stuck together with a thin, honeycomb-like layer in-between. As a result, the tap-tone is extremely consistent. At first the guitar will seem to be holding back, but after a few hours of play-time the top will open up, and project like none other. That makes our double-top Freja 1010 sound like a Freja 1010 on steroids.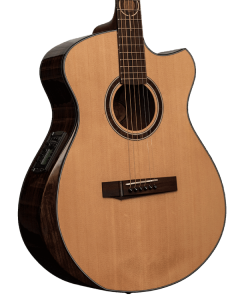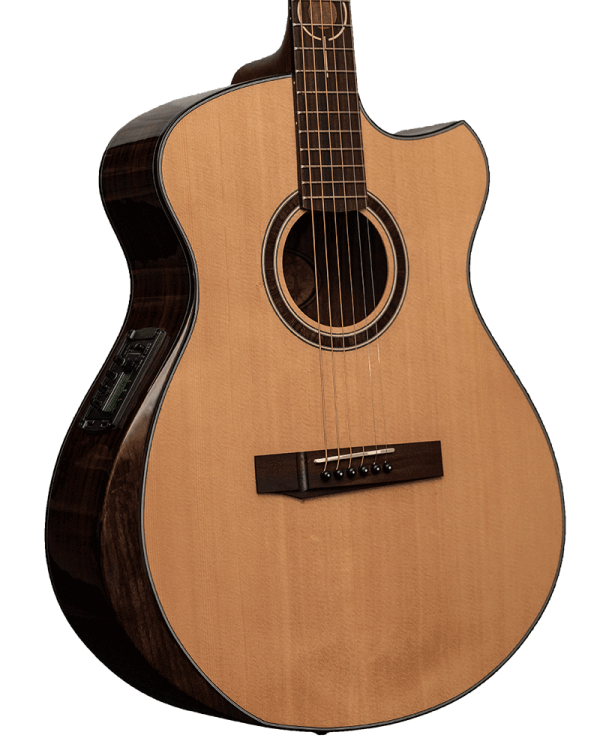 I hope that helps give you a basic guideline that may help you to choose your Andrew White guitar. We have tons of video clips on the product pages, and a quick YouTube search will give you even more demos.
Talking about tone is a funny thing–it's almost silly to try and find the right adjective for the sounds that we're hearing.
One thing I can tell you right off the bat is that if you haven't tried one of Andrew's guitars, the best way I can describe it is that if it has the same tonewoods you're used to on your guitar, it will sound like what you're used to but with more of everything–most notably more great-sounding overtones, and more clarity and note separation.