EyeCandy! Custom Model F in Red Cedar and Flamed Walnut!
What an amazing instrument.  The Figured Walnut is out of this world and the Variegated Red Cedar has beautiful colors.  And with Brazilian Rosewood for the Bridge, Head Plate, and binding, the guitar comes together very nicely. Walnut and Red Cedar is one of my favorite wood combinations, but this guitar was just over the top. This is a Model F, which is the predecessor to the Freja Models in the Production Series.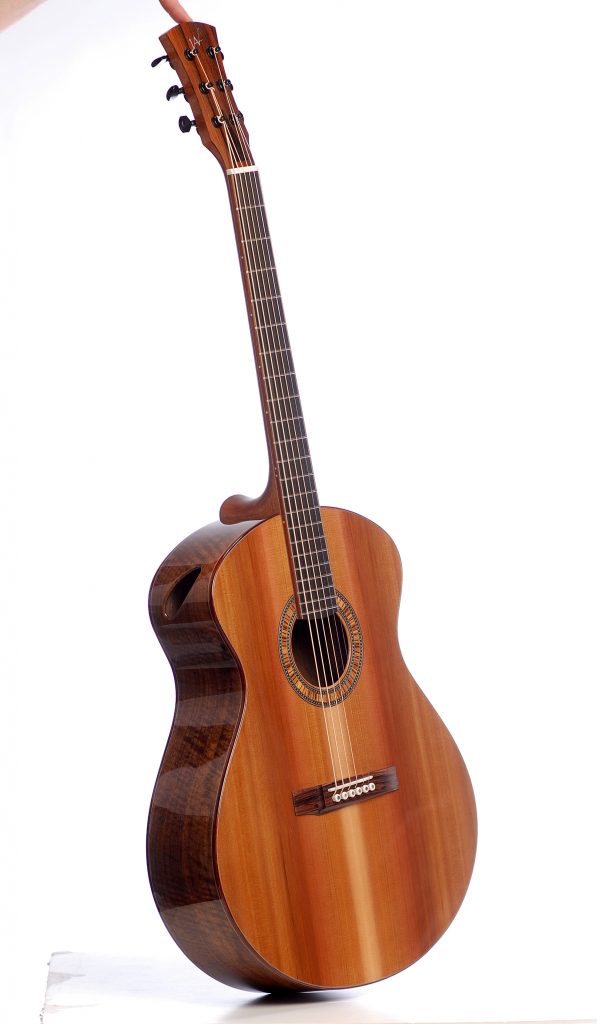 This must have been one of the earliest models I built from this particular batch of Red Cedar.  I have honestly not worked with Cedar so beautiful and so musical since then.  The pieces of wood themselves, on there own, are musical.  When a piece of wood is so sensitive that it responds to even the lightest touch, I know it is sure to be a wonderful instrument.  You know a knife is sharp when you can feel every wrinkle in your fingerprint at the slightest pressure. Fine instrument grade wood comes alive with the same slight touch.  This wood jumped to life. And, I kept one single set for my very own guitar.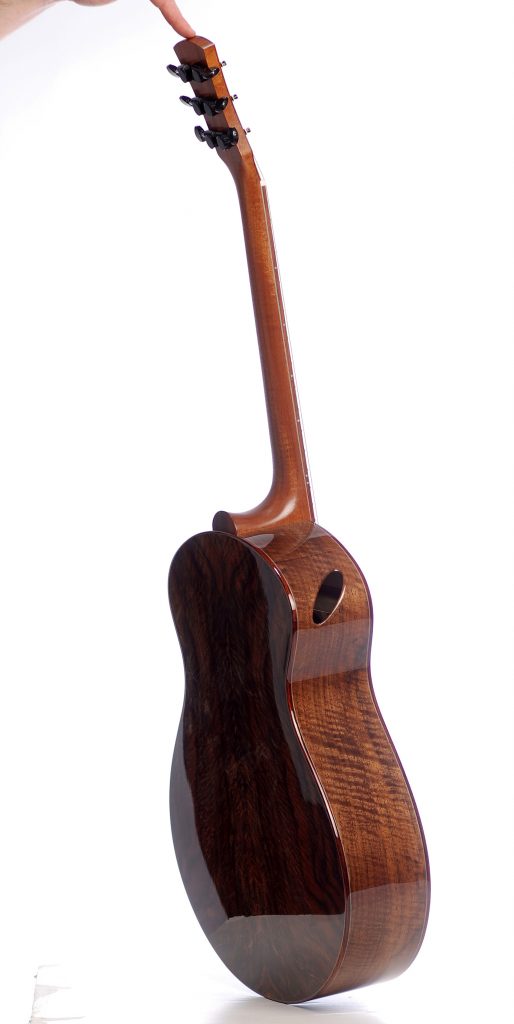 Such a rich, deep color palette in the Walnut on this guitar. This is not easy wood to bend, but with the right tools, and a few years of practice, it takes a form very nicely. You can see in this photo the Side Port in the upper bout on the bass side of the guitar.  The Side Port can be thought of a little mini monitor for the guitar player. With a side port, you, as the player are far more aware of the nuance in tone that your audience is hearing.  Its a very nice feature.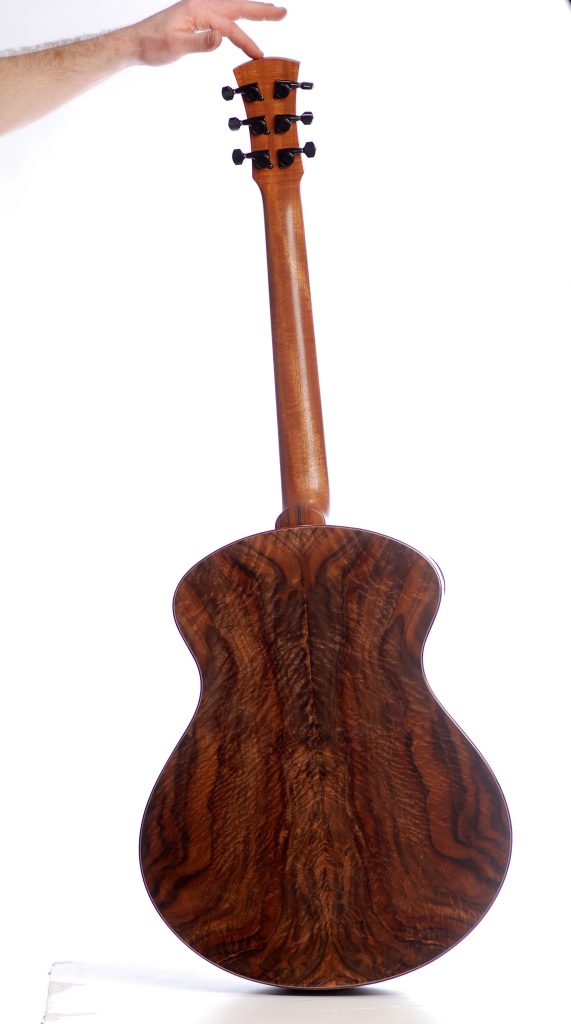 Amazing figure. Perfect book match. I'll let the wood speak for itself on this one!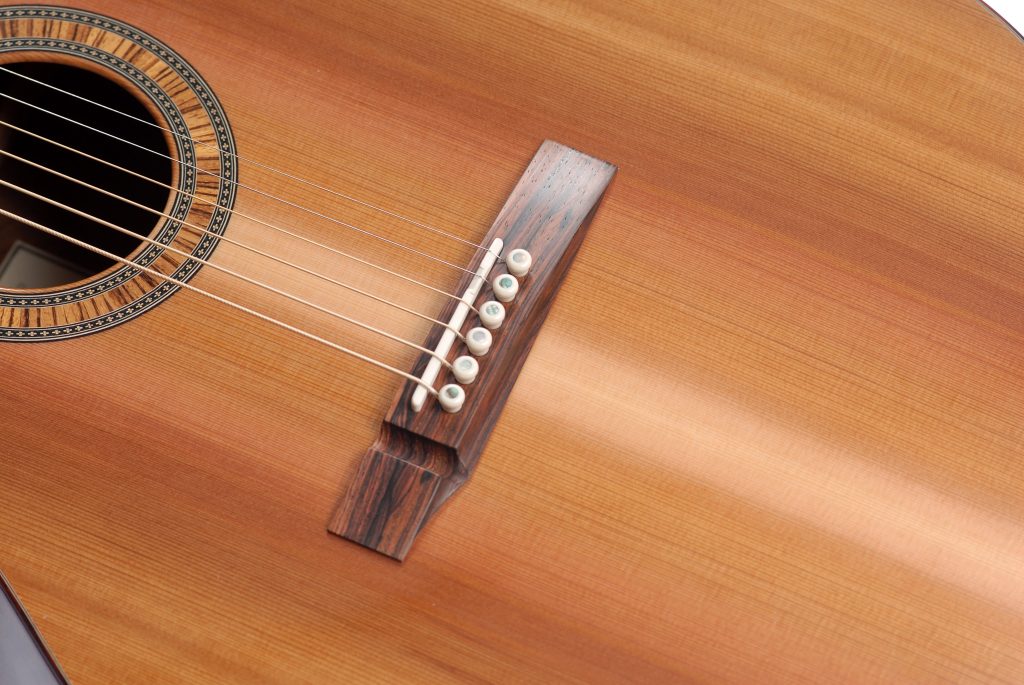 What a beautiful Brazilian Rosewood bridge with the signature Andrew White Guitars impedance matching bridge.  This bridge was designed over the course of many years and finally became the design that I stuck with in Production Series models.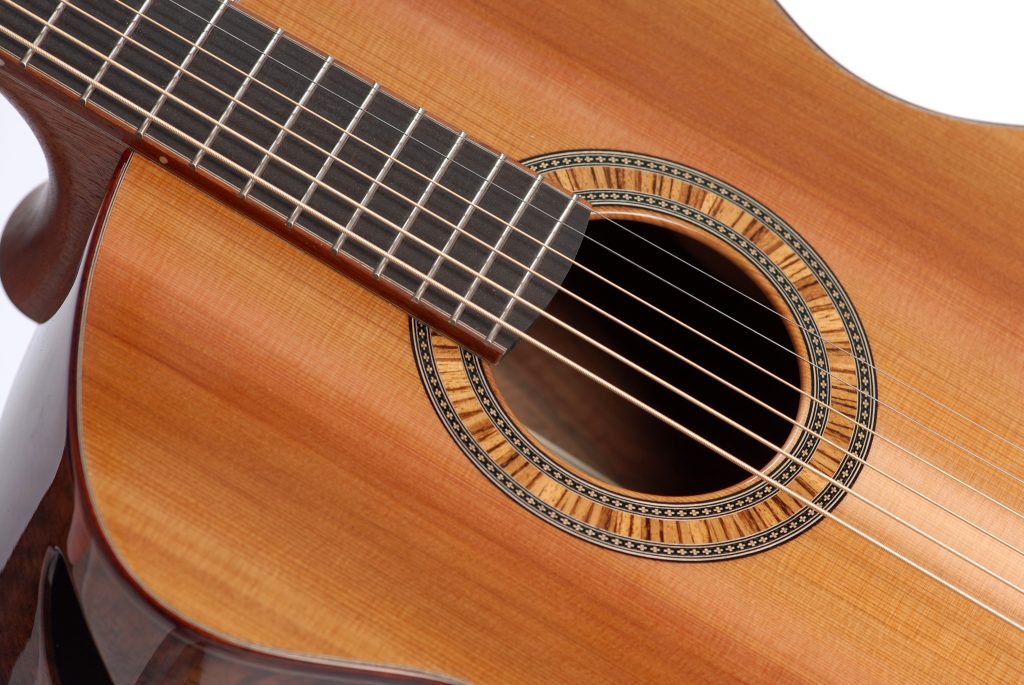 This must have been one of the earliest Zebrawood rosettes I've done as well and this rosette was the inspiration for the rosettes on the All Solid wood Production Series models. A striking contrast but still natural and understated.